Thuma beds have recently gained popularity for their simple yet stylish design. These beds are made with a strong bed frame designed to last. Additionally, the Thuma bed is easy to assemble, taking only 5-15 minutes.
No tools are required for assembly, making it an excellent option for those not handy with tools.
Furthermore, the Thuma bed is eco-friendly as it is made with sustainable materials.
Overall, the Thuma bed is an excellent choice for those looking for a durable and stylish bed.
7 Best Thuma Bed Alternatives
1- ZINUS Alexis Deluxe Wood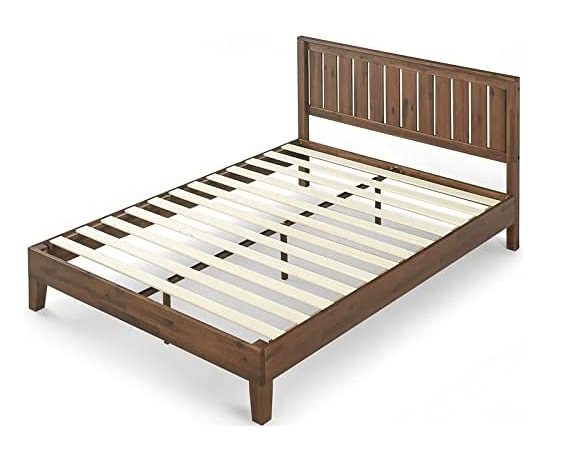 The ZINUS Alexis bed frame is a beautiful, classic style that offers the same level of durability as the Thuma bed.
The frame is made from a durable wood and steel interior frame, and the thicker legs provide extra stability and support.
The bed can also support up to 700 lbs of weight, and assembling is relatively easy thanks to the included small guidebook.
Additionally, the ZINUS Alexis comes with a 5-year warranty, so you can return or replace any part in case of damage.
Overall, this deluxe wooden bed frame is a great option for those looking for a sturdy and stylish bed frame at an affordable price.
Pros
design that lasts composed of a steel interior framework
A wider stance provides more stability.
Affordable price
Easy to assemble
Cons
It can support a weight of up to 700 pounds, which is less than what a Thuma bed can hold.
2- Acacia Emery Wood Platform Bed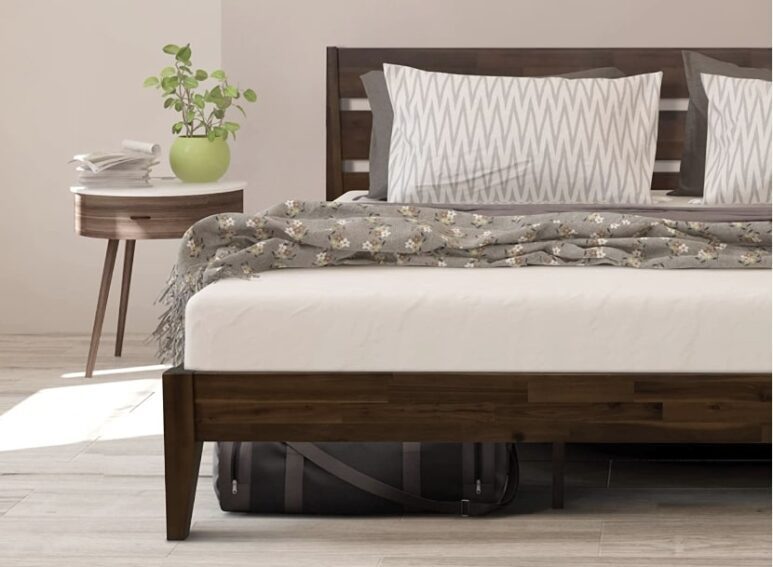 Looking for a bed frame that is both stylish and durable? Look no further than the Acacia Emery bed.
This beautiful bed frame is made from solid acacia wood, which can support up to 800 lbs. It is available in a rich chocolate color that will complement any existing furniture or décor.
The Acacia Emery bed also features positioned slats with padded tapes for added comfort and safety.
So if you're looking for a bed frame that looks great and is built to last, the Acacia Emery bed is perfect.
Pros
Our slats are positioned and padded with tape.
Safe, comfortable, and Durable.
Sleek and simple design
Five years of warranty
Non-toxic, eco-friendly finishes
Cons
Some people may be allergic to strong fumes.
3- Allewie Bed Frame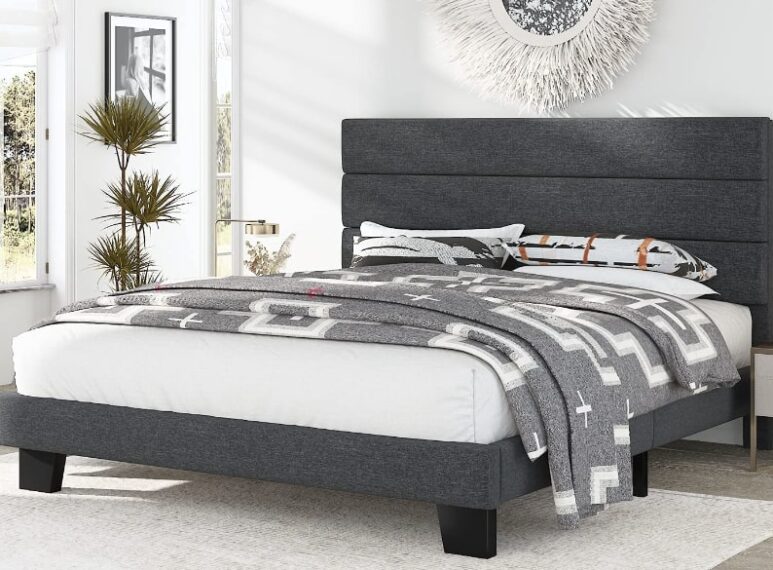 The Allewie bed frame is a great option for those who want something different from the typical thumb bed. It has a sleek design that looks like a modern bedroom.
The bed frame, made with strong alloy steel, can support up to 800 pounds.
The slats are made of wood that prevents your mattress from sliding or moving during the night.
The bed also has an option for four drawers to store blankets, clothes, and other belongings.
There is an adjustable headboard on this bed, so you can adjust it to fit your mattress height.
The linen-upholstered headboard with a button-tufted style enhances the look of luxury for the bed.
Allewie bed frames are designed for easy assembly, using only simple tools – no power tools required.
Pros
Attractive plus modern look
Four drawers
Easy to build
Can support 800 lbs of weight
Adjustable headboard
Cons
Drawers are a real pain to line up, and it takes forever to hook them into the frame.
4- Einfach Full Bed Frame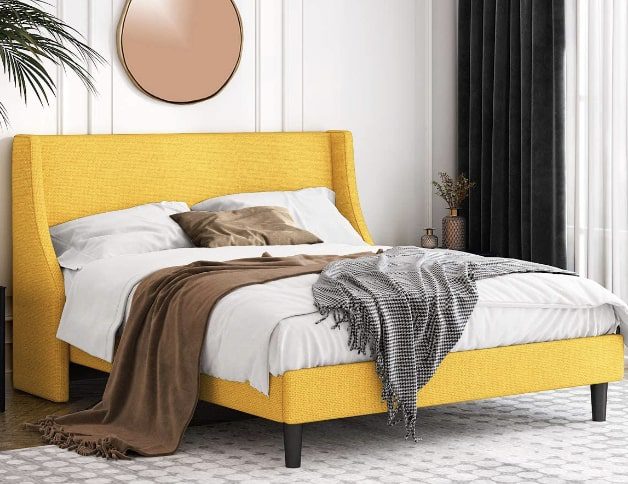 The Einfach full bed frame comes in five colors: orange-red (perfect if you want a bold look), light gray, and green.
It's easy to put together because there aren't any box springs or mattresses required – install your own pillows!
With center-supported legs that can hold up to 900 pounds of weight without issue, this stylish alternative isn't only perfect for modern bedrooms but also much cheaper than other types.
If you're looking for something different than the traditional box spring and mattress, this stylish bed frame on slats is a perfect option, specifically for modern rooms.
Pros
wingback headboard
Five color option
Durable metal
Center support legs
Cons
The assembly process is not user-friendly; it takes a while to put it together.
5- Lexington Platform Bed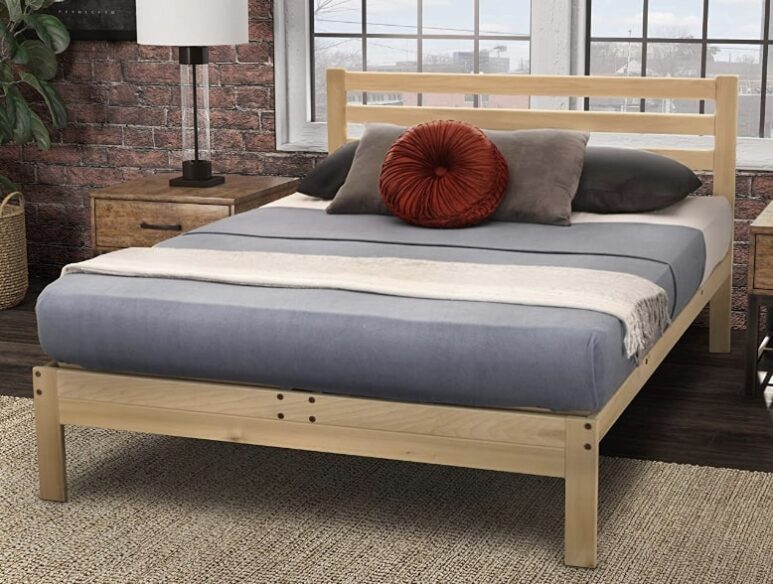 Here comes another high-quality bed that's as strong and durable. The frame is made of smooth wood, so it can't move or squeak! Plus, the mattress stays put due to well-engineered slats – no more shifted mattresses with this one!
The bed has a simple design that looks natural and pleasant. The assembled product is easy to put together; this one will get all the bolts, nuts, or guides needed for quick construction!
If the wood is too rustic for your liking, stain it to give it a more luxurious look.
Pros
Durable
Very Steady
Minimal design suitable for simple bedrooms
Cons
With a 600-pound maximum capacity, this product is not ideal for heavier individuals or couples.
6- Classic Wood Platform Bed Frame By Mellow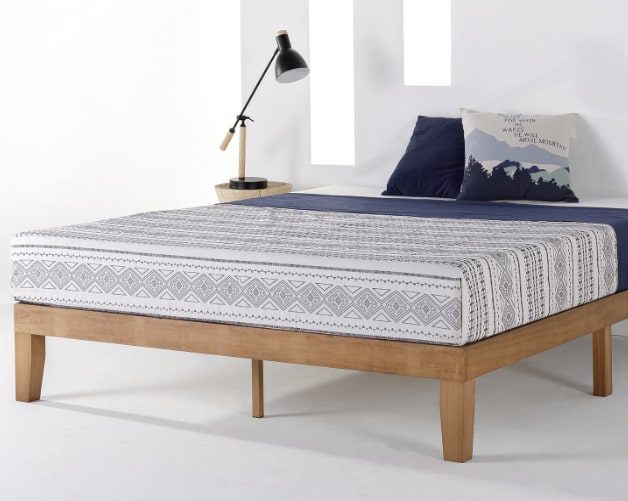 If you're looking for an affordable alternative to the Thuma bed, go for the Mellow wood bed frame. This bed is designed with center support and three legs made from metal, so it's sturdy and won't move around.
If you're looking for a bed frame that's both durable and can support heavy weight, this is the perfect option, as it can hold up to 1,500 pounds.
In addition, a non-slip tape on the bottom of each wooden slat prevents them from moving and provides extra stability. You also won't need an extra box spring.
Although this bed frame has all the other attributes of a Thuma bed, it doesn't have a headboard. Even so, it is the best alternative in its price range.
Pros
It has legs in the center for support.
The Thuma bed has an excellent weight capacity.
Perfect for an energetic couple who wants a good night's sleep
Price friendly
Cons
Check On Amazon
7- SHA CARLIN Queen Size Platform Bed Frame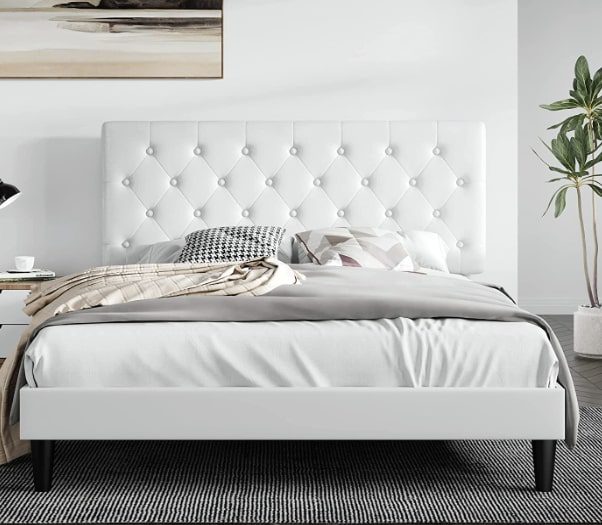 If you're looking for a modern and durable bed, the Thuma bed might be perfect for you.
The SHA CARLIN bed frame is a sturdy and good-looking piece of furniture that would be perfect for any home. It's made with high-quality wood and has a solid natural wood board to provide stability.
The most important practical feature of the bed frame is an adjustable diamond headboard with a soft edge and high-quality cushioning. The headboard is wrapped in synthetic leather, which feels more luxurious.
This chic bed can handle 800 lbs and doesn't use a box spring.
Not only does under-bed storage give you the opportunity to store things you use every day, but it can also save space in your room.
Pros
Modern headboard
well-designed wooden slate
Solid legs for stability
Affordable Price
Cons
The frame is not deep, so the mattress can sink in properly and move.
FAQs
How long does Thuma's bed last?
Thuma beds are more expensive than store-bought bed frames, but they're also much higher quality—so you know it'll be a lifetime investment.
How much does the Thuma bed cost?
If you're looking for a high-quality, long-lasting bed frame, Thuma is the way to go. However, remember that these premium wood frames come with a heftier price tag; for example, a small twin-size Thuma bed frame will cost $695. Prices jump up to reach $995 for those needing the California king size.
Final Advice
If you discover that Thuma beds don't fit into your budget, don't fret! I have pointed out several equally good alternatives that cost less money.
If you are seeking a bed frame that will last many years, the ZINUS Alexis bed frame, Acacia Emery Platform bed frame, or Lexington platform bed would be excellent choices.